Posted by Carly
After over a year at the Eugene store and one amazing Summer helping the women of Portland find shoes at our Bridgeport location, my time at Miss Meers is coming to an end.
As I pull myself together and prepare to say my goodbyes, I have one last decision to make: what will be my last pair of Miss Meers shoes?
Okay, I realize it obviously won't be my last pair. There is no WAY I'm staying away from this place forever. But there is something special about that last pair as an employee (besides just the discount). It's the shoe that more than any other will remind me of the good times I spent here,
(the ladies of Miss Meers at our work Christmas party)
One comment I must have heard once a week since I've worked here is "I don't know how you even go home with a paycheck". While its true there have been some days I've taken my paycheck home in a shoe box, when you're around so many beautiful shoes every day it gets a lot harder to decide which ones are actually you.
I have always struggled with deciding between two things: Do I want the high quality basic shoe what will become a staple of my wardrobe, or do I want the crazy fun shoes I won't be able to find anywhere else?
Lately I've been noticing that I'm not the only shoe lover with this problem. All the time I have customers who fall in love with a shoe and then decide its just not practical enough, or they love a shoe and decide its too boring and they want something more special. How do you find a balance!?
So here I am, faced with a decision. Do I make my last shoe a wild fun one a classic plain one?

OPTION 1: WILD
Kenneth Cole Reaction "Frida World"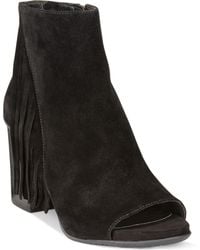 Open toed suede booties accented with a cascade of fringe? Yes please! This Kenneth Cole Reaction bootie is right up my alley. Perfect with skinny jeans or a fitted dress.
Cute for a night out.... but maybe not the best shoe to make a good first impression in my new office. As hard as it is, I think I'm saying no the fringe today!
OPTION 2: BASIC
Sam Edelman "Dea"
Let me just start by saying that this shoe is INCREDIBLE. If anyone knows how to make a comfortable shoe its Sam Edelman, and the Dea is no exception. You can't go wrong with a basic pointed pump and this camel color is such a gorgeous neutral.
The Dea is definitely office appropriate, however... do I want my final Miss Meers shoe to be neutral?

FINAL DECISION:
Drum roll please....
The All Black Met Fish Cuts!
Maybe I'm a little wild and a little basic. Why not make my final shoe a pair that represents both sides of who I am?
The Met Fish Cuts is the perfect combination of everything I love in a shoe. It takes your traditional pointed flat and gives it a special twist with sharp angles and a totally unique fish scale texture. Perfect for work OR play.
Goodbye Miss Meers and thanks for all the memories!